Support your team dance with I.D.M. DJ Service.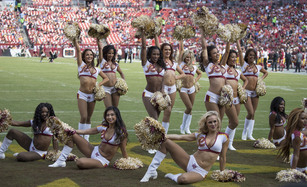 It's time for football in America. Baseball is nearing the playoffs. Hockey pre season has started. It's time to dress your best and support your team! Wear your favorite team gear to the dance this Saturday night and root root root for your guys. NFL jerseys, cheerleader outfits, MLB shirts, it's all up to you. Sox, Cubs, Bears, Vikings---they'll all be here. Don't argue though, just ask that pretty Packers fan to dance. Or own I.D.M. will have the tunes for you whether you'd like half time or the 7th inning stretch. Falls first dance of the year, but temps expected to be in the mid 80's with sunshine! C'mon out this weekend!
The fall season is upon us at Sun Aura. Start making your plans for your camp visit. Each season is different at our resort but we've got fun every weekend and all year long. Don't miss out,
book your stay online at this
link!
Owners Marty and Diane strive to make this resort a must see and come back soon kind of place. We'd love to meet you too! Come out this weekend and meet some new friends! 2016 was an amazing all year at Sun Aura! So many new faces, in 2017 can one of them be yours? Make a reservation today! Or just stop by and see what the funs all about!
---