Christmas Dance with DJ Charlie!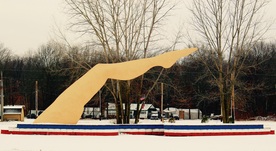 Merry Christmas! This Saturday we'll be holding our yearly Christmas dance and gift exchange! DJ Charlie is our master of Holiday tunes and he'll be your MC for this gathering of the Sun Aura family! If you'd like to participate in our gift exchange just bring a wrapped present in the 20.00 range. Of course feel free to make your gift on the "naughty" side. We have a good adult sense of humor around here! The roundhouse is decorated to the hilt and YES! Santa Clause will be here, with his helpers the Ho Ho Ho's!
While it may be cold our roundhouse is warm for every dance and our hot tub will knock out the cold! We've also added a new heated smoking area for our friends and visitors. Come out to our place and experience the fun of the more intimate off season crowds. Get to know us, and like we do: look forward to summer fun to come! We'd love to welcome you this weekend. And don't forget our HUGE New Year's Eve party! Get your tickets now by calling our front desk during business hours. 15.00 per person and that includes dinner, appetizers and champagne.
If you rent a cabin or RV for two nights you get half off on the second day's rental. You can save up to 75 bucks! We never stop the fun at Sun Aura resort. As a matter of fact more than 30% of our new members come here for the first time in the "off" season. We hope our next new visitor is YOU!
The winter season is upon us at here Sun Aura. Start making your plans for your camp visit. Each season is different at our resort but we've got fun every weekend and all year long. Don't miss out,
book your stay online at this
link!
Owners Marty and Diane strive to make this resort a must see and come back soon kind of place. We'd love to meet you too! Come out this weekend and meet some new friends! 2016 was an amazing all year at Sun Aura! So many new faces, in 2017 can one of them be yours? Make a reservation today! Or just stop by and see what the funs all about!
NEXT WEEK: Mix and Match dance with DJ Spindoctor, followed by our big New Year's Eve weekend with 3 nights of dances!

---